Thanks to my discovery of the Cheers at South Spine, I began to dine alone more often last semester. That  got me thinking about places where one can dine alone more comfortably, away from the crowds and scrutiny of others. With the start of the new school year, this guide might be helpful for some freshies who want to escape the awkwardness of social interaction or the intensity of orientation. Fret not fellow introverts! Here are some spots in NTU—either recommended or tried and tested by myself and my introverted friend group—that I would suggest to anybody looking for somewhere to eat alone!
1. Cheers, South Spine L2
Pros:
Wider selection of food: they have rice bowls, hot dogs, crepes, waffles and more are up for grabs. To add to that, the usual Cheers convenience store food is also available. The food is also of good quality and tastes great!
They are equipped with an automated payment system where one does not have to interact with others to pay for their items. Talk about escaping awkward scenarios at the cashier!
The place is air conditioned so you won't be sweating buckets while grabbing your meal in-store.
Cons:
As their snacks require deep frying, Cheers tends to have a strong oily smell. This smell can get in your clothes and hair if you remain in the store for a longer period of time. Too much of such snacks can also take a toll on your health.
If you're purchasing from the snack stall, you still have to interact with the cashiers to pay for and collect your food.
There's nowhere to sit in Cheers, and although South Spine is just outside, there's still lots of people around and it can get quite stressful for those of you who dislike crowds.
2. The Tea Party, The Arc B1
Pros:
Decent prices for the food and drinks considering the quality and quantity of food and drink served. Heads up! Their pastas come with an ice lemon tea drink, and you can get a discount on their brownies should you purchase it with your meal.
The Tea Party is open past 8 for those of you who end classes later. My friends and I used to drop by for dinner after our classes ended at 7.30pm and even 8pm on occasion at The Arc.
When the sun is up or when it begins to set, should you be seated at the right spot, you might be able to view the horizon, or even the sunset!
Cons:
Certain pastas can be a bit salty and the portions may be a bit too little! Do not fret! More pasta can be added for a dollar.
Despite its relatively secluded location, it can get crowded occasionally as groups of friends like to dine there. However, this can be easily remedied by popping into one of the unoccupied, air conditioned classrooms above to have your meal in peace.
3. Co-Op Cafe, The Hive B1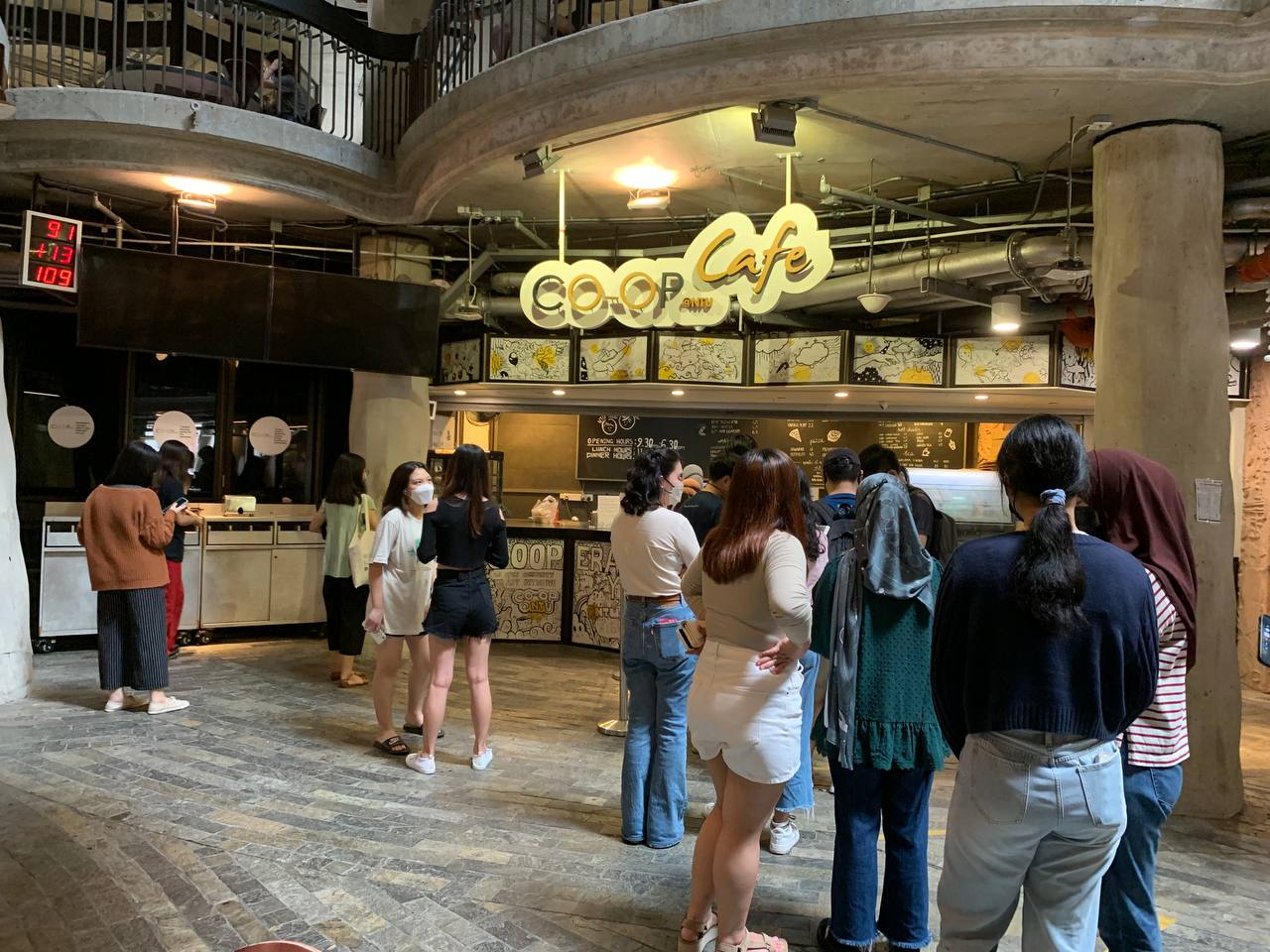 Pros:
Most items on the menu taste pretty great! My friends and I, who have many classes there, like to frequent the Cafe because of this. 
Even though many items on the original menu have been cut, their menu still has a good variety as the students who run the cafe added new selections of pizzas and puff pastries.
For those of you who want to avoid crowds, there are spots around the wings of the Hive where it's more quiet where you can people-watch or look at the road outside.
The tables are also spaced apart so you won't have to sit too close to strangers!
Cons:
Inflation has hit hard and the prices have gone up by a whole dollar, so it's even more taxing on the wallet than it already was before.
They don't serve standard menu items from 2-5pm, but they still sell puff pastries and quick bites for those who really need food.
Co-Op Cafe tends to be VERY crowded and has long queues during lunch hours (~12pm to 1pm), even executives come down to buy food from Co-Op Cafe.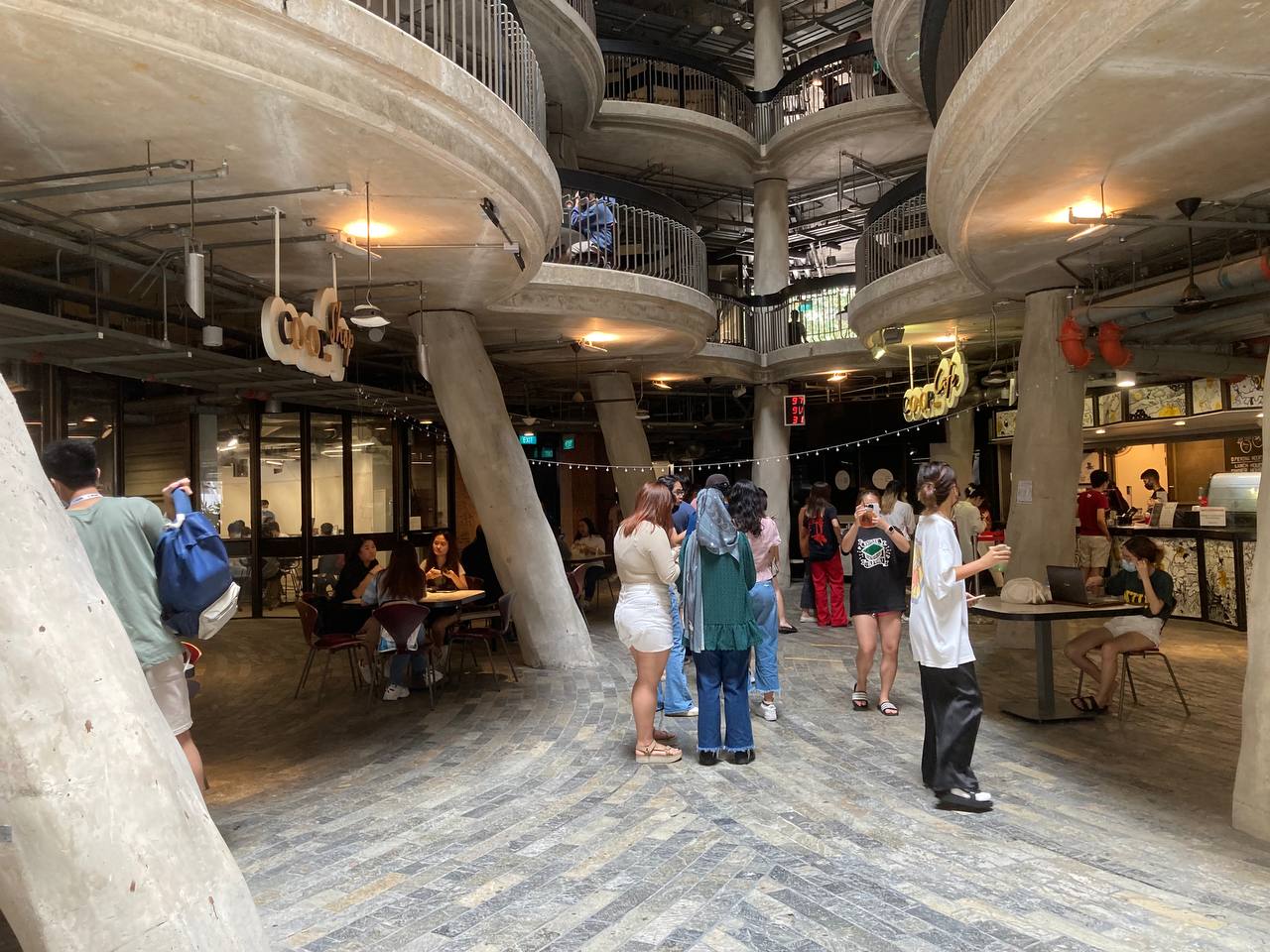 An example of the typical queues seen at Co-op Cafe
4. Canteen 1
Pros:
Due to its more secluded location (a walk away from Canteen 2), it's not crowded most of the time, which allows one to have a more peaceful dining experience.
The entire canteen is air conditioned, providing one with a brief respite from the heat in NTU's campus
On one end of the canteen, there is a conveyor belt hotpot place where each customer has their own personal hotpot, making for a more private and comfortable dining experience. Perfect for those who appreciate more personal space and a less awkward chance at eating alone.
Cons:
The canteen is at a quite secluded corner at the top of a small hill, so it may not be as easy to locate and it may not be as accessible.
Food options are more limited as the stalls mostly serve Chinese food, but there is a fusion food store which serves food from a range of cultures.
Hopefully with this introductory guide, eating around NTU will be less stressful for both incoming and existing students. However, this guide is still quite limited as there are many places in NTU I have yet to explore, so we would love to hear your thoughts on good places to eat at as an introvert. If you would like to share such spots with us, you can reach us via DM on our instagram page @hcnanyangtech. Happy dining!