If you like stories about best friends, iconic Gen Z fashion, and brushes with danger, you'll want to watch Fakes on Netflix. Spoiler alert: This story mentions spoilers for Fakes. Fakes follows two best friends in high school in Vancouver as they build a fake ID empire and get dragged further into illegal activity. When the show begins, Zoe (Emilija Baranac) is the studious, anxious type, while Becca (Jennifer Tong) is more of a free spirit, though it becomes clear that neither of them is exactly as they seem once the stakes are high. 
Zoe and Becca are poised to become a new iconic TV friendship duo, among the likes of Blair and Serena, Brooke and Peyton, or Betty and Veronica — but there's a difference with these two. "Teenage girls portrayed sometimes in the media can fall into tropes and stereotypes," Tong tells Her Campus. But Fakes flips that notion on its head. "[Zoe and Becca] have amazing aspects of their personalities, but they do make mistakes, and they have flaws," she says. Baranac agrees: "It's important to also see not only the good but the bad," she says. "As humans, we are messy too, and that's okay."
What adds to this complexity is the show's storytelling format. Both Becca and Zoe serve as unreliable narrators that occasionally speak directly to the camera to convince you their version of events really happened. Episodes flip back and forth between their points of view (with an occasional third POV from Tryst, played by Richard Harmon). The audience sees a fair amount of scenes depicted twice (they were called "sister scenes" on set, according to Tong), with a few key changes to the script and who's saying what — because memory is faulty, and both Becca and Zoe want you to believe all the trouble they get into is someone else's fault.
"It was a challenge as an actor, just trying to remember where we're at in the story and whose perspective we're in," Baranac says. "Definitely something that I've never done. But it was just really fun."
"We were lucky enough to have David Turko, who's the showrunner and creator of the show, and Tabia [Lau], who wrote a lot of the episodes — they were super on track of what was going on and we could always check in with them if we needed some clarification, but there was lots of room to play and experiment," Tong adds.
For Baranac and Tong, shooting these sister scenes also meant figuring out where the truth of their characters actually lied, and how much they themselves believed in what their characters were selling. "I think the truth lies in the overlapping parts," Tong says. "When you see the same thing happen in both Becca and Zoe's episodes, that's probably close to the truth. But we've talked before about how people live in their own POV all the time, and everyone's living their own reality. So what is 100% genuinely true to Rebecca is probably different for Zoe."
In an age where most female friendship narratives on film and TV are either family-movie wholesome or conniving and backstabbing, Zoe and Becca walk a fine line in the middle that, despite the dangerous subject matter of printing fake IDs for their classmates, feels all too accurate to the average girl's high school experience.
"At the end of the day, they have so much love and respect for each other, but they're going on their own journeys, too," Baranac says. "As the season goes on, we see them really transform. And maybe it's a question of like, are they still on the same page? Maybe they're just on different paths, and that's also okay."
These individual journeys are reflected in the fashion of the show: Each scene of Fakes will be a treat for fashion and beauty lovers, from Becca's sky-high heels to Zoe's dramatic hair transformation. For Baranac and Tong, costume designer Trish Petrovich was instrumental in helping them embody their characters and take the show to the next level.
"As an actor, I always feel that the wardrobe is such an important part of the process of settling into the character. I can do all my preparation for what I think the character's gonna be, but once I actually put the clothing on, that's when things really fall into place," Baranac says. "Zoe's transformation is very distinct and very different from when we first meet her. So I know for myself, especially when I had the wig on, it really helped me get into that place."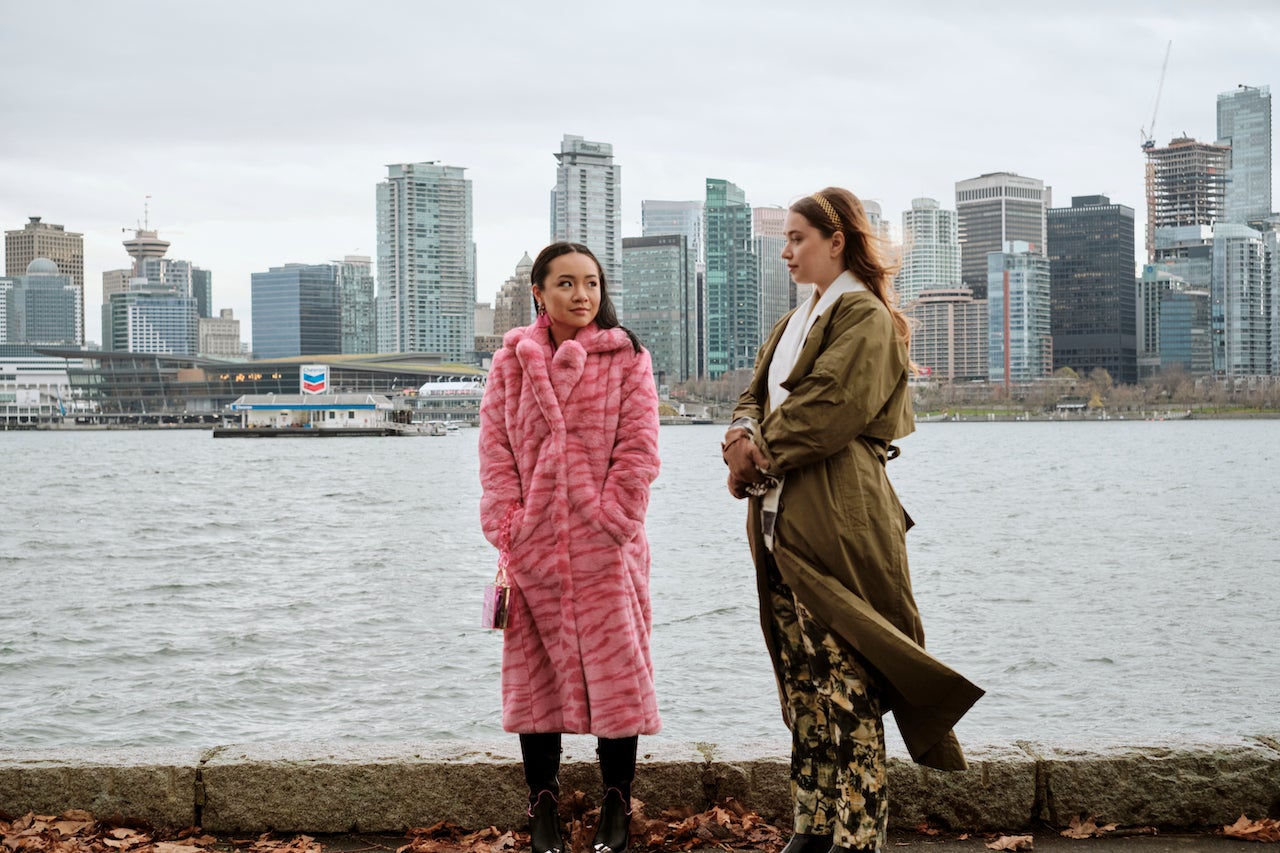 Tong added that Petrovich wasn't "afraid to push the limit, and put us in some things that we were unsure about," she says. "But it worked!" (P.S. Keep an eye out for Becca's pink fuzzy coat and Zoe's quilt-style dress, the girls' personal favorite fashion moments from this season.)
But Fakes isn't all glitz and glamor. It has no qualms about digging into the less pleasant parts of their characters' journeys as the tension ramps up, and a few scenes with both girls' families will potentially hit close to home for some viewers. Despite Fakes being primarily a comedy, both Baranac and Tong showed their dramatic range in these more serious moments, which they say was all thanks to one thing. "I felt like the directors and showrunners and producers and crew really created a [set] environment where I felt able to tap into some of that deeper stuff," Tong says. "And of course, playing off your scene partner is probably the most important thing for me. And all of my scene partners were just as invested as I am."
Baranac agrees. "We wanted to make those moments as real as possible," she says. "And hopefully somebody watching can find comfort or relate in those moments."
For now, it's still unknown whether Fakes will return for Season 2, but Baranac and Tong are hopeful — and they have ideas. More crime stuff! More betrayal! More Sally (Matreya Scarrwener)! "I just want all of the cast back!" Tong gushes. "We had so much fun shooting with everyone. We want to explore what happens next together."
Fakes is available to stream on Netflix now.