Business is a great college major, especially for those who are creative, innovative, and see themselves as leaders. A business major is the best of both worlds because a student will leave school with a degree that is both broad and practical. Like any other major, the school you attend will give you an advantage as you set out on your career one day.
Attending a school with a strong business undergraduate program will give you a leg up in your experience, potential job offers and even your starting salary, so it's important to choose wisely. Your future is a marathon, not a sprint, so take your time to research and visit schools if you're set on majoring in business and attending one of the top undergraduate business schools.
What Is a Business Degree?
When people say they're majoring in business, it's generally assumed to mean "business administration." However, there are several majors that fall under the business umbrella. A business administration degree tends to be the most broad and provides a wider understanding of the business world, but any business degree will open doors to a wide range of industries. Colleges with business majors are easy to find, but going to one of the top undergraduate business schools can help you get a job and a good education.
Some common majors for business degrees include business administration, finance, marketing, international business, management, and entrepreneurship. While most schools have these majors or similar ones , the names and focus of the majors may vary. Some of the schools on this list have a single business major option, and students choose a concentration within it.
Picking your major for business school depends on the field you want to work in. Luckily, any business degree provides a well-rounded education that is both data-driven and creative, so you're not going to lock yourself into any one job possibility.
Best Undergraduate Business Schools in the US
A good business school should have the connections and provide you with the education and experience to help you find the job you want. Some of the top undergraduate business schools have graduates that are highly sought after by businesses, since the companies know these students have received a high quality education.
This list of the best undergraduate schools in the US incorporates top-ranked programs that provide a rigorous academic program that prepares you for your future job. They should also excel at placing students in jobs.
The University of Pennsylvania's Wharton School of Business is a highly competitive program that has just a 6% acceptance rate and regularly tops lists of the best undergraduate business schools. Wharton is, according to Forbes, "oozing with opportunity" and the prestige alone will have some of the nation's top companies lining up to offer you a job post-grad.
University of Virginia's McIntire School of Commerce offers students a comprehensive program, which includes two years of liberal arts education and two years devoted to your concentration. The school of commerce lets you choose a concentration in finance, marketing, accounting, management, or information technology. The school also has plenty of study abroad opportunities, and encourages all students to plan study abroad time. You can study abroad anywhere from a week to a whole semester.
University of Michigan's Ross School of Business boasts that 98% of their business undergraduates received an offer within three months of graduation. Ross also has students work in a curriculum that's similar to an MBA program, which means that you get hands-on experience in practical courses. The school also allows you to concentrate on other areas of study, if you have an interest in a particular industry. For example, you can major in business but concentrate in healthcare administration, so you have the ability to become an expert in that field.
University of Washington students at the Foster School of Business only have one major option, business administration. However, students can pick a specialization in accounting, entrepreneurship, finance, human resources management, information systems, marketing, or operations and supply chain management. UW alumni have founded companies, created 300,000 new jobs, and created $82 billion dollars in annual revenue. The business school alone has 28 business related organizations that students can join.
At Notre Dame's Mendoza College of Business, students can major in accounting, business analytics, business technology, finance, management counseling, and marketing. Students have access to Notre Dame's comprehensive advising program that guides students through their general education requirements in the first two years and then helps hone their skills and resumes in their junior and senior years of college. Students can also participate in 40 different study abroad programs in 20 different countries.
NYU Stern has a renowned MBA program, and its undergraduate business program is just as thorough and prestigious. In addition to a BS in business, Stern students can also get a BS in business and political economy, or dual major in business and film. Students can also complete the BS in Business/MS in Accounting program in four years plus one summer session. NYU Stern is situated in New York City, the business capital of the world, which means lots of opportunities for students to explore their interests and make an impact.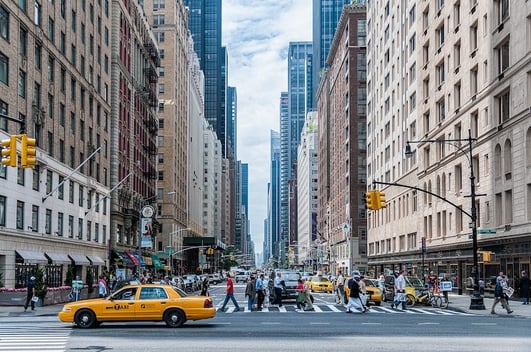 6th Avenue in New York City is home to many international companies.
(Frank Kohntopp / Wikimedia)
The Haas School of Business at UC Berkeley is not only the second-oldest business school in the US, but also one of the most cutting-edge. Haas prides itself on combining old wisdom and experience with new ideas and giving students the freedom to innovate and explore. Students can major in business administration, management, entrepreneurship and technology, global management, or biology and business. Additionally, about 75% of full-time undergraduates have a job when they graduate.
The Kenan-Flagler business school leans into the flexibility of a business degree by offering students a challenging program that covers all areas of business, along with practical hands on courses. Chapel Hill also has a career services team specifically for the business school that is well connected and very experienced in helping get students hired. The class of 2020 boasts 98% of job seekers employed to date, and a median base salary of $72,000. 
MIT Sloan has a special focus in teaching students how to apply business principles to their technological, mathematical, or scientific skills. The coursework also focuses mainly on management. The Sloan undergraduate community is small, and the school puts a lot of emphasis on the community aspect of the school. Of course, MIT has a wealth of connections to big companies as well as venture capitalists that may help their science-minded students form their own businesses.
UT Austin has top-ranked graduate programs in business and marketing, and it applies the same standards to its undergraduate programs and the McCombs School of Business. UT Austin claims to be "human focused" and aims to prepare students for a business environment where they can be ready for anything. McComb also has majors for the modern business world in addition to the usual business majors such as business, government and society, and information, risk, and operations management.
The Tepper School of Business Administration at Carnegie Mellon has core classes in business, math, and computer science, and students can choose one out of eleven concentration. Carnegie Mellon works directly with recruiters and corporate partners to pair students with mentors, help them get real-world experience, and eventually place them in a job post-graduation. Carnegie Mellon is known for its industrialist spirit and innovative stance on science, engineering, and more. Carnegie Mellon applies these principles to business students as well, helping them look to the future of business, technology, since, and more.
What About an MBA?
An MBA is a Masters of Business Administration, a graduate degree that you can consider after completing your undergraduate education. An MBA aims to take the theory students learn in business school and apply it to practical settings, allowing students to challenge themselves by analyzing and solving real world business problems.
Depending on what you want to do upon graduation, you may or may not consider getting an MBA. Students often finish undergrad and work for a few years before entering an MBA program, with the idea being that once they've gained experience they're ready to become an expert in their field and a leader or manager at their company.
MBAs have a higher level of analytical thinking and a deeper understanding of business strategies and how they work, and many MBA students already have several years of experience in their fields. An MBA is meant to prepare and qualify you for higher level business management roles. Therefore, MBA's can expect to make significantly more money.
Full-time MBA programs usually take two years, but there are plenty of part-time and online MBA programs as well. Some companies also contribute to the cost of an MBA program for their employees.
Attending a Top Undergrad Business School: Next Steps
Choosing a college is no easy task, but it's only the beginning. While going to a top school offers amazing opportunities and a world-class education, the most important thing is to choose the right school for you and your goals. Touring and visiting schools is a great first step, and so is talking with current students to ensure you see yourself there. If you're ready to dedicate your college career to studying and excelling in business, looking into what it takes to go to one of the best undergraduate business schools in the US and researching colleges with business majors is a great place to start.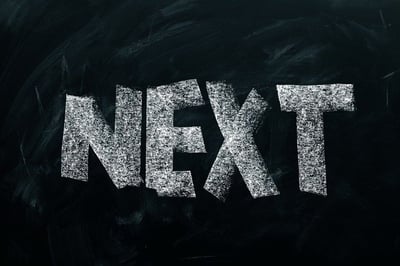 What's Next?
Searching for colleges? Read this guide on which colleges you should apply to and these guides on safety schools and target schools.
If you're looking into majors, check out the this guide on how to choose a major and 4 tips to double-majoring.
Questions about colleges and your SAT scores? Check out the schools that superscore the SAT and this list of good SAT scores for 101 schools and colleges with the highest SAT scores.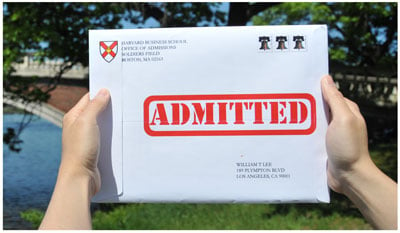 Want to build the best possible college application?
We can help. PrepScholar Admissions is the world's best admissions consulting service. We combine world-class admissions counselors with our data-driven, proprietary admissions strategies. We've overseen thousands of students get into their top choice schools, from state colleges to the Ivy League.
We know what kinds of students colleges want to admit. We want to get you admitted to your dream schools.
Learn more about PrepScholar Admissions to maximize your chance of getting in.